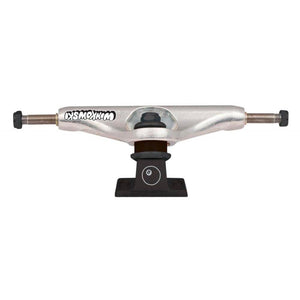 TRUCKS ARE PRICED INDIVIDUALLY
PLEASE SELECT 2 IN THE CART IF YOU WANT A SET
Message us if you need an individual truck.
Independent Trucks 149 Stage 11 Hollow Winkowski
AXLE/KINGPIN STYLE
Hollow Axle & Kingpin - Hollow axle trucks cut down on the materials used in the axle, so your trucks feel lighter. Hollow kingpins further reduce weight while still maintaining strength in this critical area.
TRUCK FEATURES
No Hang-Up Yoke - An enhanced yoke around the cushion seat takes the kingpin out-of-play on grind tricks like feebles and smiths.
4140 Chromoly Steel Axles - Chromoly has a high strength-to-weight ratio and is more durable than traditional steel, making it the best option for performance skate trucks.
Grade 8 Kingpins - Manufactured to stand up to the hardest landings and the most brutal street abuse, Grade 8 Kingpins will keep you rolling for years.
Lifetime Guarantee - Covered under manufacturer lifetime guarantee against breakage defects in hanger/base materials or workmanship. This lifetime warranty DOES NOT cover broken trucks due to abuse or neglect, damage caused by any modification done outside the manufacturer's facility, or lost or worn out parts due to lack of hardware maintenance.