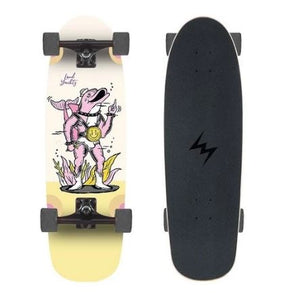 Landyachtz Completes Tugboat Flippy
A longer version of the Dinghy, the Tugboat comes in at 32″ long and 8.6″ wide for a super solid, stable feeling ride. The extra meat also inspires confidence and gives you more platform to land on when doing tricks on larger obstacles. The Tugboat is pressed with 7 plies of Canadian maple for a light, stiff and poppy ride. It comes set up with Polar Bear 155mm trucks for maximum stability and leverage. 60mm 78a Fatty Hawgs wheels finish off the setup and ensure you'll have a smooth ride with plenty of roll speed and grip without having to worry about wheel bite.
The big brother of the Dinghy, the Tugboat provides the same smooth-rolling, hard-carving experience in a package a little better suited to riders with bigger feet or who are looking for a slightly more stable ride.
Features:
Length: 32"
Width: 8.6"
Wheelbase: 15"
100% Canadian Maple
Kicktail
Low Concave
Sanded Wheel Wells