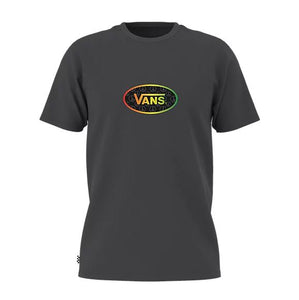 Vans Tee OTW Asphalt
Many first learned about Tyson Peterson when he was featured as one to watch in The Skateboard Mag's "Next Wave" video and print feature. Dreads blazing, Tyson impressed by mixing tech and gnar with liquid execution and a placid presence. Making a loud entrance in Vans' Spinning Away (2018) web edit, Tyson put his skill and creativity on display, proving he's able to not only show up, but set any stage. 
Featuring an interior waffle print that pulls moisture away from the skin, the Tyson Peterson Oval Off The Wall T-Shirt keeps you comfortable and dry while Sturdy Spun yarn provides durability and minimizes shrinking. With a bound rib collar and reinforced shoulder seams, premium Vans trims, a checkerboard hanger loop, and Tyson's fresh design, the Off The Wall tee will be the last T-shirt you'll ever need. 
Model is 6 feet tall and wearing a size Medium.
Tyson Peterson signature collection
Comfort - Moisture-wicking interior waffle pattern pulls moisture away from the skin 
Durability: Construction - A bound rib collar and reinforced shoulder seams offer durability
Durability: Sturdy Spun Yarn - Sturdy Spun yarn provides durability and minimizes shrinking
100% cotton
Checkerboard locker loop